Will fly fishing be good this spring on the Sacramento River?
The Sacramento River from Red Bluff to Redding CA is commonly referred to as a "year 'round fishery" for wild rainbow trout, but is that actually accurate? Yes and no… Although it is possible to catch trout every month of the year there are certainly peak times to be on the water, and spring is definitely one of them! And yes, fly fishing should be quite good this spring on the Sacramento River….as usual.
Why fly fish for trout on the Lower Sacramento River in the Spring?
Spring time in Northern CA brings moderate, enjoyable weather, and most importantly; lots of bugs.  With prevalent bug hatches come the recklessly feeding trout. This is great news for the flyfisherman (or woman). Mayflies, caddis, and stoneflies are all present and active during the spring months. The flies that are most prevalent can vary greatly in different stretches of river. It's generally wise to head to the river armed with a variety of different flies to 'match the hatch'. Great fishing and comfortable weather make spring  a popular time to be out on the Sacramento River. Click here for info on local fly patterns.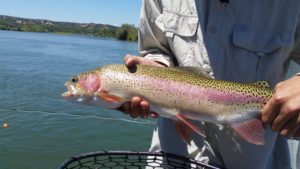 Other consideration for spring fishing
There are a few variables you will want to keep an eye on. One, obviously, will be the weather. Ideally you want to see a consistent, moderate pattern without the crazy changes in barometric pressure and temperature. That can throw the bite off pretty quickly. The leading edge of a storm is generally not so great and windy days over 20mph can make things difficult.
Second is the water conditions. Although river flows can commonly fluctuate during the spring depending on runoff and water delivery schedule, it is advisable to steer clear of days where there is a drastic change in river volume (drop or rise). Large adjustments in the flows can put a damper on otherwise great fishing seemingly out of nowhere. So, ideally you will be looking at consistent weather and water leading up to, and on, your fishing days.
An additional consideration will be what sort of experience do you want from fishing on the Sacramento River. Would you rather fish in Redding where the trout are consistently larger but its more crowded and in a city setting? Or would you rather try lower with less traffic and better scenery with the tradeoff of seeing generally smaller trout? Logistics regarding lodging, access, and fly selection can all be affected by what part of the river you choose. Of course these are all just variables and you don't know unless you go! Feel free to contact and consult us for up to date info prior to scheduling a trip.
Fly fishing techniques for the spring
The staple as far as techniques goes in the spring is using nymphing rigs under a strike indicator. This presentation is incredibly effective especially from a drift boat. Dry fly action can be had throughout the day with prime-time often happening in the late evenings. There are some great pieces of water to swing wet flies with single-hand, spey, or trout-spey rods.
Some final thoughts
Taking advantage of the Sacramento River's robust wild trout fishery is a great way to spent a spring day. If you are new to fly fishing there is no experience necessary to participate. Most of our clients who come out with zero experience are typically able to learn the basics within about an hour. The rest is enjoying the process of 'learning by doing'. It is very common to have a multitude of opportunities at these hard fighting fish with action happening from start to finish. This is a large body of water that is best accessed by drift boat. We provide custom drift boats, all equipment, and lunch! Contact us here for more info and to schedule your next spring fishing adventure.